Going Global: Why Your Business Needs Fluent Speakers
The world of business has changed a lot in the last few decades. In truth, it's always a shifting landscape, one that's led by the twin forces of innovation and human will. The more we believe in an idea's feasibility the more we lean into our innate inventiveness, truly creating the world around us. If you want excitement with a side of hard work, be an entrepreneur.
In recent years, entrepreneurship has meant an increased awareness of the wide world around us. Unless you're running a hyper-local shop, you have to be tuned into the possibilities beyond your doorstep. Whether you offer services or goods, your audience is likely looking for you online. If you're running on a B2C business model, you need to reach consumers who are shopping online more than ever before. If you're a B2B company, well, the businesses you're hoping to work with are also on the web. This can be daunting, but it can also be exhilarating. After all, with the whole world open to your business your possibilities are truly endless.
In an increasingly global business world, one thing is for certain: You need a wealth of diverse employees if you want to reach an international audience. Let's take a look at three reasons why language skills can unlock your company's worldwide potential.
It's a Small World After All
Generally speaking, it's not a great idea to think small—except when it comes to accessing all the world has to offer your business. Why not have team members on every continent, and some digital nomads as well? With a diverse roster of employees, you'll enrich the intellectual assets of your company manyfold; having more viewpoints expressed at team meetings gives you additional opportunities to understand the needs of a wider audience. Plus, having a diverse set of viewpoints embedded into your company's structure has been shown to drive more exciting innovation. That said, you can't very well have a team in France without French-speaking employees on board, can you? In order to access the possibilities inherent in the global market, you need bilingual people on board who can speak fluently in the languages of the regions you're expanding into.
Target Your Whole Audience
Multilingual employees can do more than head up a team in Europe, Southeast Asia, or North Africa. They can also allow you to get your products and services into the hands of customers in more regions. Why target only a monolingual audience when you can enjoy the returns of an audience from around the world? Of course, this takes some doing. Not every solopreneur with an Etsy shop can provide customer service in many languages or even translate their website into more than one language. If you're a small or midsize company with an eye toward expansion, it might make sense to invest in language learning for employees or in hiring practices that zero in on proven fluent speakers who have passed a certified language test.
Meet Your Match
Despite the fact that many business leaders are championing a return to in-office work, it's not really clear whether that's a necessary move. Plenty of companies are actually doing better with a wider pool of candidates and customers that the shift to remote work has allowed. Previously, having an office in New York City meant that you could hire folks from the Tristate area. Now, you can literally pull in talents from anywhere with a connection to the internet. This gives companies a lot of leverage, actually, because US-based managers can find someone qualified from Portugal, the UK, or India as easily as they can find someone from Ohio or Indiana. One thing this requires, though, is a multilingual team. For example, if the best web developer is a Spanish speaker with only some English language skills, having a Spanish speaking contact person will be necessary. Here, as well, investing in or rewarding language learning among your employees is a smart move for savvy business leaders.
These days, a monolingual company is a missed opportunity. Language learning and fluency certification may be the best way to access the new customers, team members, and ideas your organization needs in order to grow.
Additional Resources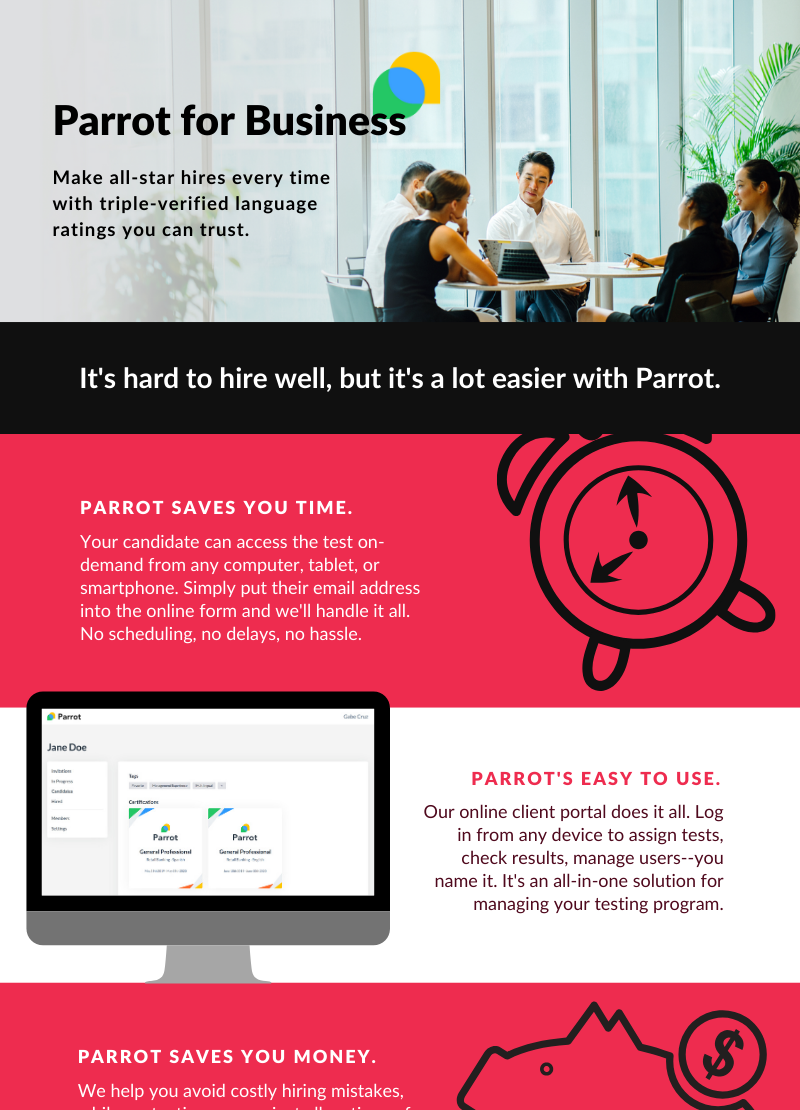 Parrot for Business Info Sheet
We built Parrot to help businesses hire candidates with the language skills those businesses need to grow. Read this info sheet to learn more about how easy your testing program could be.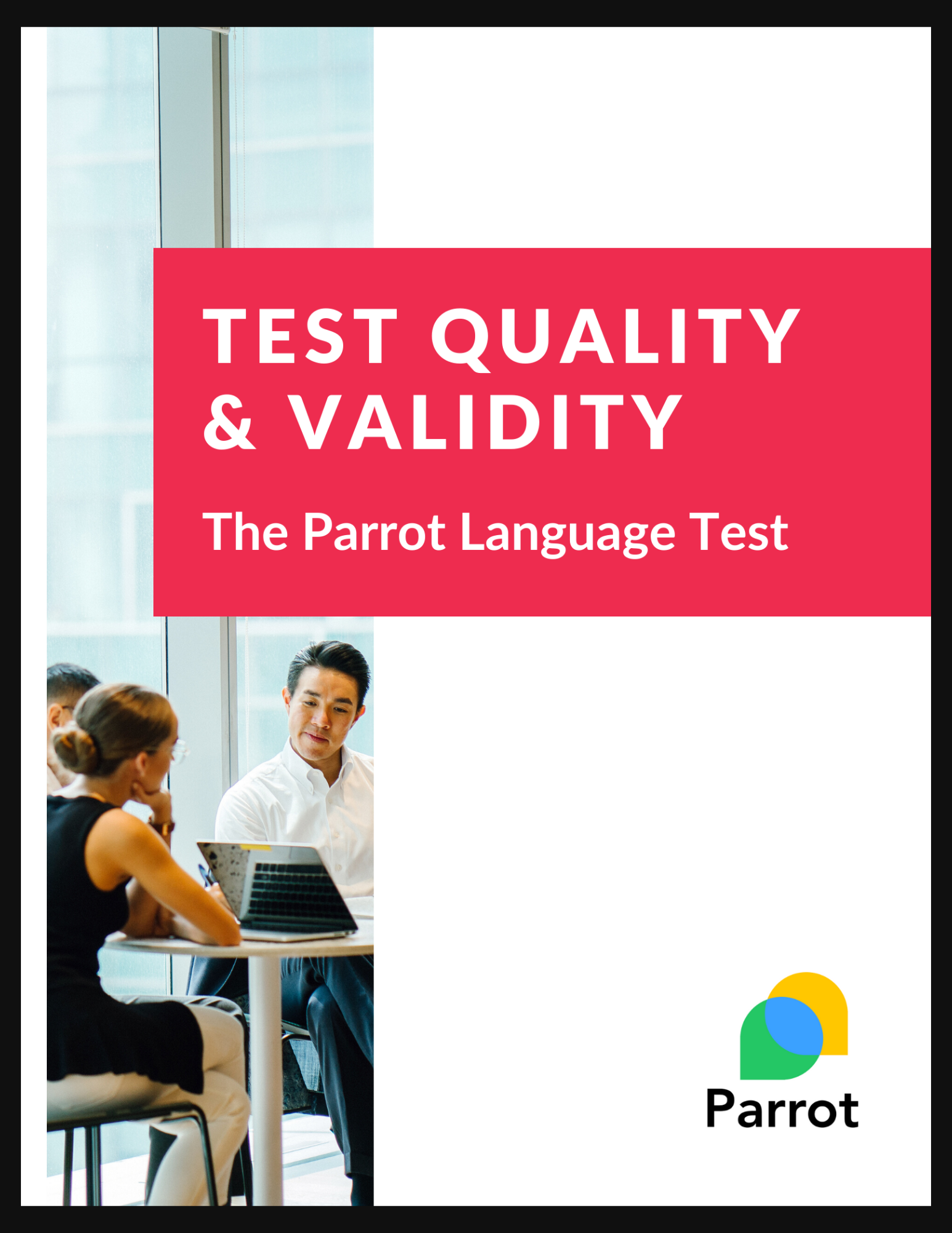 Test Quality & Validity
By combining an innovative methodology with modern tech, we're creating a new standard for evaluating language skills. However, none of that would matter if our results weren't also unquestionably valid. This report shows how we've fine-tuned our method to meet and exceed key industry standards for validity.