Language Testing Resources
Learn more about language testing and certification for businesses & organizations.
The Parrot Guide to Language Testing
The world is getting smaller every day. As new markets open up and demographics shift within existing ones, businesses are enjoying new opportunities, but also facing new challenges when it comes to meeting the language needs of their audiences. Understandably, businesses have lots of questions. How does a testing program work? Is it reliable? How much does it cost to start?

We've been in this industry for a long time and we want to help. Aside from building the world's best language test, we want to help you understand how evaluating language skills can best serve your organization's objectives. For that purpose, we offer this list of resources and articles to share our decades of experience with you.

Of course, not every question will be answered here, so if you're curious, please contact us. We're confident we can help you implement a testing program that faces your unique challenges head on.
Language Testing Questions
What is language testing?
Offering much more than a simple definition, this article walks you through each of the basic components of a successful testing program. Read more.
Why is language testing important?
Generally speaking, the importance of testing is that it helps you build a team with the language skills you need to achieve your organizational goals, but that's just the beginning. Read more.
What are the different types of language tests?
Different types of language tests are designed to assess different aspects of language skills in different contexts. Which one fits your needs? This guide can help you decide. Read more.
How does Parrot evaluate language skills?
Parrot has designed a revolutionary method of measuring language skills that allows us to reliably evalaute proficiency at a fraction of the traditional costs. This article outlines our methodology and explains what makes it so successful. Read more.
What rating scale does Parrot use?
Parrot uses the most commonly used proficiency scale in the United States, which is also the federal government's preferred language proficiency standard: the ILR scale. Read more.
How long does it take to get my rating?
Parrot results are typically provided within 24hrs. In fact, over 92% of test ratings were delivered within 24hrs in 2020. However, in order to protect the integrity of our tests, sometimes we need to take more time to clear various security concerns, or even address technical issues that can come up. If you are ever faced with a deadline, please let us know in advance at help@parrot66.com, so we can do everything we can to meet your deadline.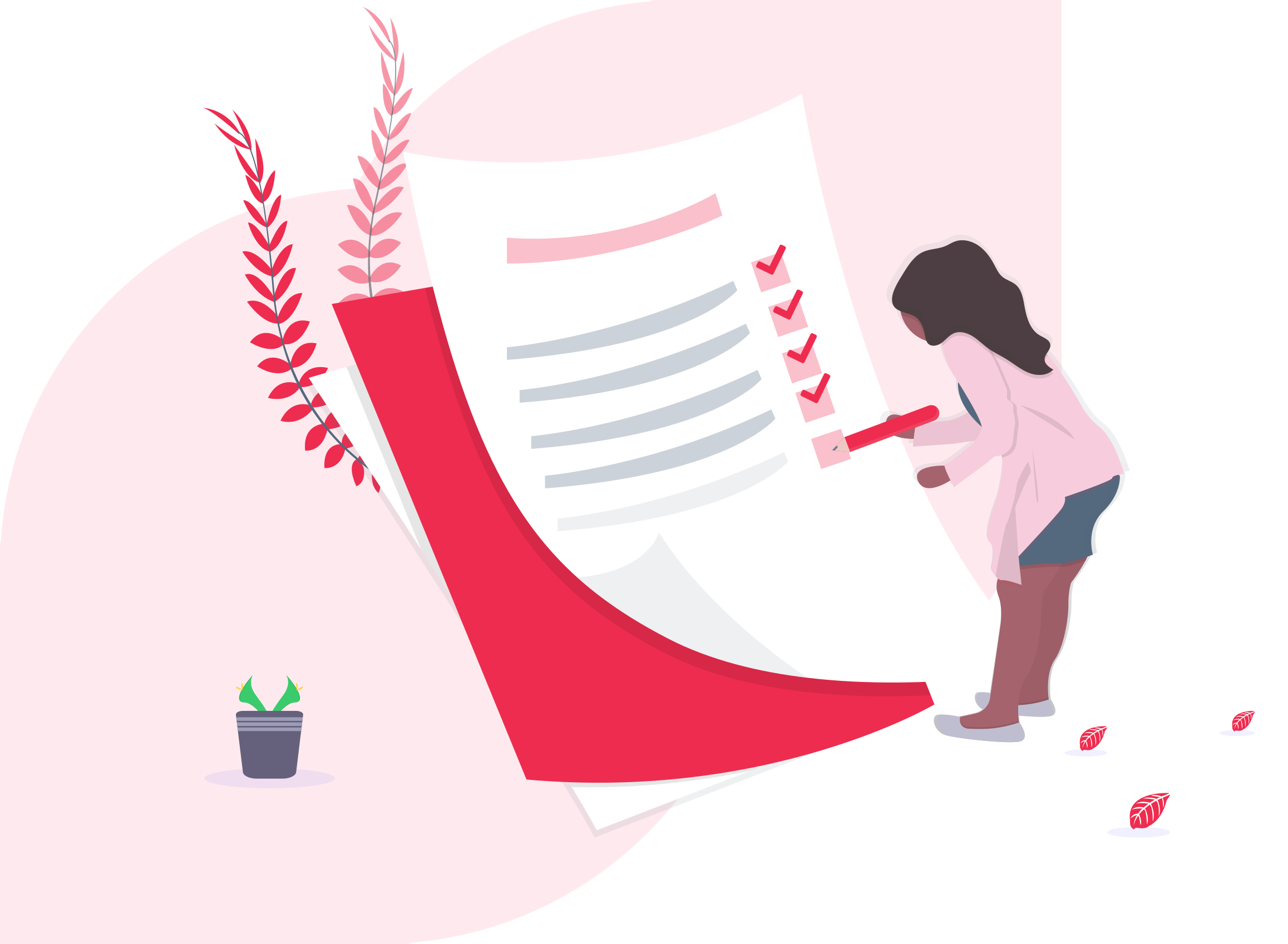 Additional Resources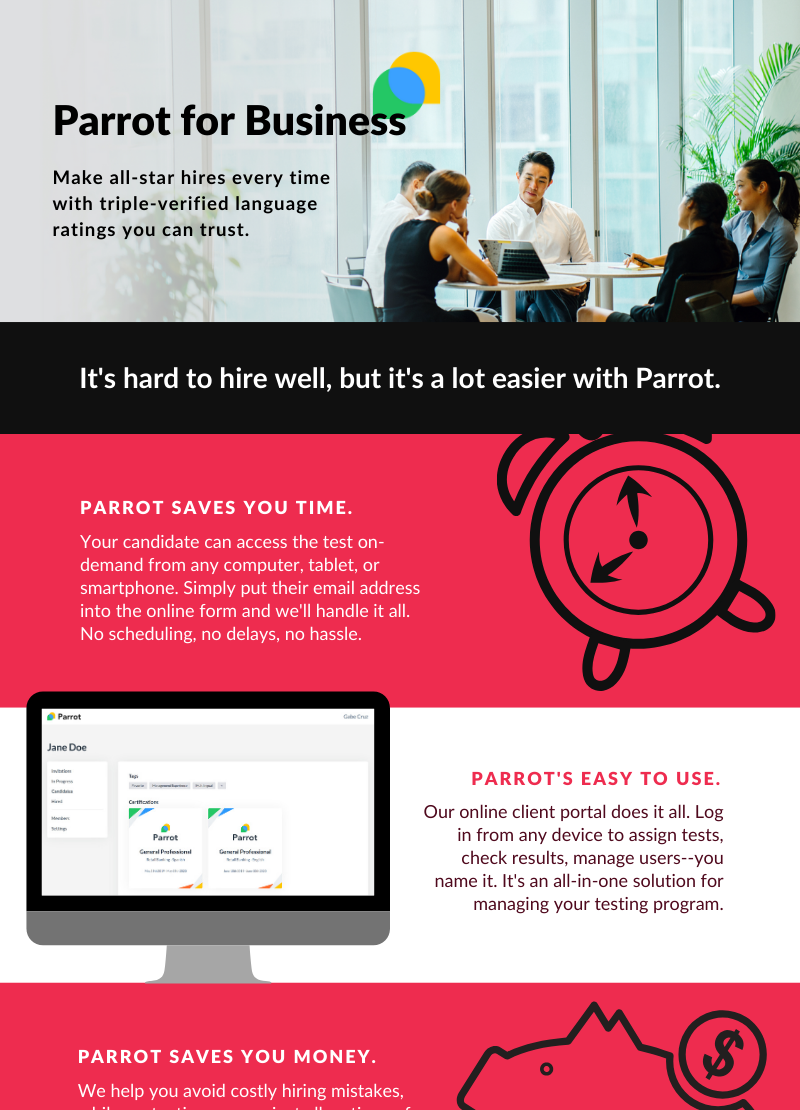 Parrot for Business Info Sheet
Parrot is built to help businesses hire candidates with the language skills those businesses need to grow. Read this info sheet to learn more about how easy your testing program could be.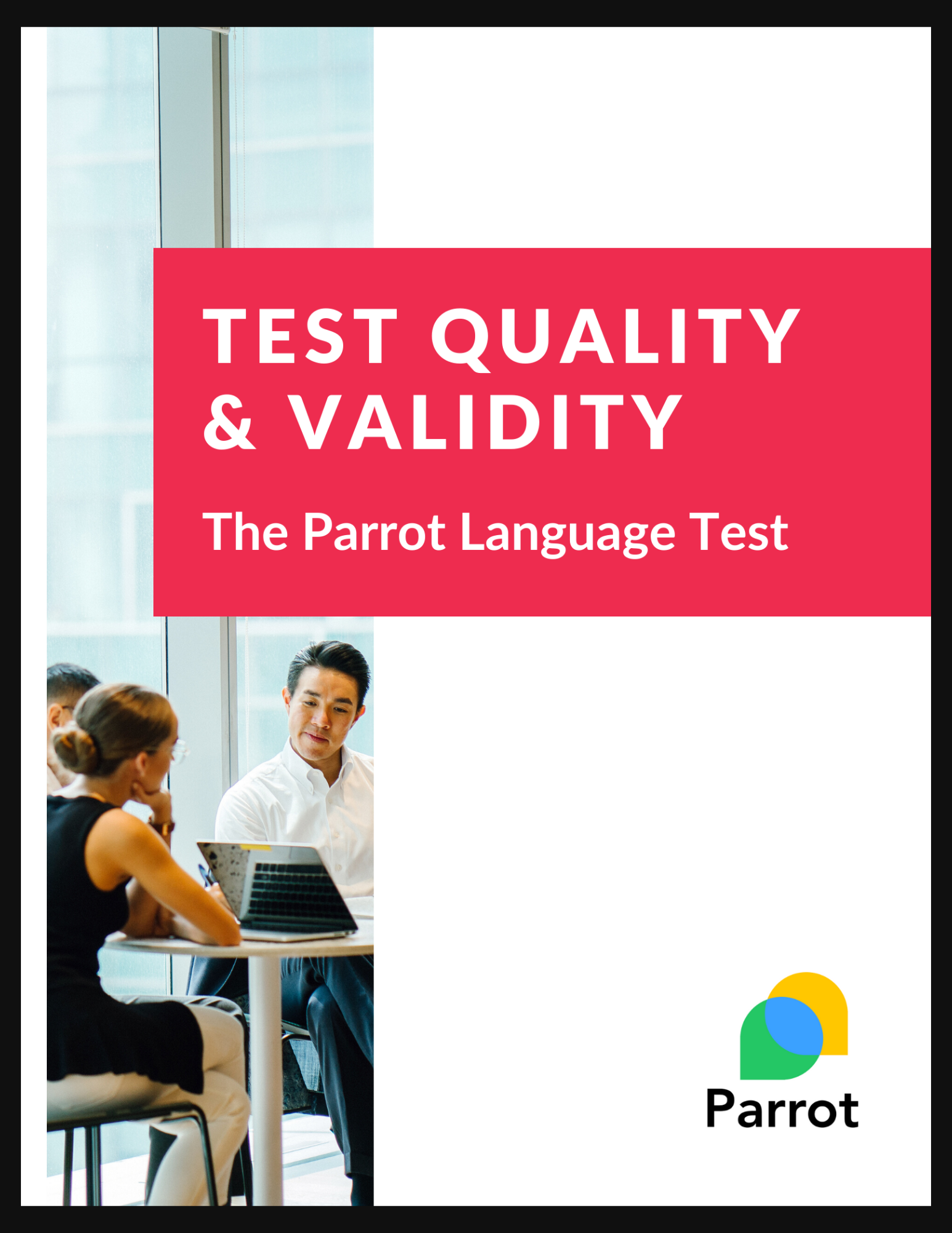 Test Quality & Validity
By combining an innovative methodology with modern tech, we're creating a new standard evaluating language skills. Of course, none of that would matter if our results weren't also unquestionably valid. This report shows how we've fine-tuned our method to meet and exceed key industry standards for validity.