How Do I Become a Certified Spanish Medical Interpreter?
Spanish medical interpreters help patients understand their diagnosis by accurately interpreting what their doctors and nurses say. Fluency in Spanish and English is paramount, and they often need to back it up with a certificate from a language testing agency to demonstrate their proficiency. Becoming a medical interpreter is not about the mere translation of words but understanding basic medical terminologies and being culturally sensitive. Once a candidate meets the language test's essential prerequisites and medical training, they can become certified Spanish medical interpreters by applying for certification at one of the two US organizations, CCHI or NBCMI.
You must have linguistic proficiency in English and Spanish if you are seeking a credential as a healthcare interpreter, claro que sí!
Both CCHI and NBMI require applicants to prove their language proficiency.
To become a certified Spanish medical interpreter, candidates would need to submit one of the following:
High school diploma or its equivalent, with classes in Spanish.
Certification of completion of extensive coursework at the post-secondary level, with most classes conducted in Spanish.
Time spent studying /working in a country where Spanish was mandatory.
Having the required score through a Spanish proficiency test from a reputable testing organization like Parrot. An ILR-2 or higher score is mandatory. We help you get a triple-verified rating to demonstrate your language skills. Test your language skills online and get certified; it's seamless!
Interpreter or translator certification.
Once these prerequisites have been verified and the application is approved, the candidate is required to take a knowledge-based written exam and a performance-based oral exam to earn a CCHI certification. The exam tests applicants on medical terminology, protocols for interacting with medical professionals in Spanish, and accurate interpretation. Those who successfully pass the exams become Spanish Certified Healthcare Interpreters.
On the other hand, NBCMI grants a Hub-CMI certification on passing the written exams. Post which, a candidate gets two years to complete the oral assessment for the CMI certification. To pass the oral exam and become a certified Spanish medical interpreter, you must score at least 70%.
Get detailed insight into the Medical Interpreter Certification Cost and other criteria here.
What is the difference between a Spanish medical interpreter and a Spanish medical translator?
Although the term 'Spanish medical interpreter' and 'Spanish medical translator' are commonly used interchangeably, they are two different roles. Both are often members of the same professional organizations and undertake the same professional development in medical terminology to enhance their subject-matter expertise.
A Spanish medical interpreter transfers verbal or signed communication into Spanish oral or signed language.
In contrast, a translator's role is to translate written text from English to Spanish. Interpreting focuses on spoken aspects, and translation focuses on written skills—the latter deals with paperwork, prescriptions, discharge forms, and other documents. Translators need to go through medical translation programs to translate specific medical terminologies into the target language accurately.
A Spanish medical interpreter essentially serves as a mediator between patients with limited English proficiency and their doctors.
Are there practice tests available?
NBCMI and CCHI encourage applicants to take the practice test to be familiar with the examination format. You must create an account on the site to get access to the medical interpreter practice test.
NBCMI Practice Test
The organization recently created its practice test to ensure smooth navigation through its oral exam. They clearly state that the practice test is solely made for familiarization as the mock scenarios are entirely different from the actual exam. Get access to credentials here. They also have detailed candidate handbooks that give further clarity on the written and oral exams. If you have questions, you could attend their monthly hourlong webinars where they have 30 minutes dedicated to Q&As. Keep a check on the NBCMI website for webinar announcements.
The CHI practice examination
The exam is available in Arabic, Mandarin, and Spanish. These tests are meant to acquaint candidates with the structure and difficulty level. You can access these exams anytime and from anywhere once you create an account on the site. They also have practice tests for CoreCHI applicants that can be taken 10 times within six months of purchase. For a limited period, these practice tests are free of cost. Additionally, to help you prepare, CCHI plans free webinars each month. Check out all online training modules on the website.
Additional Resources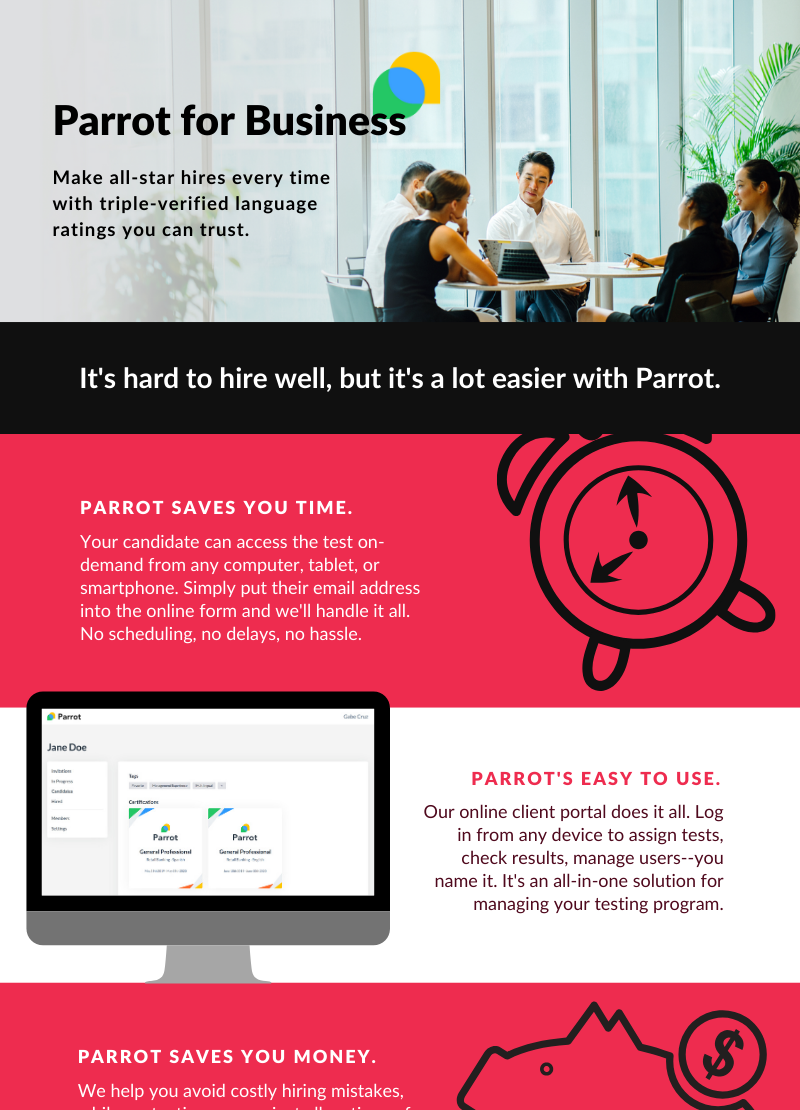 Parrot for Business Info Sheet
We built Parrot to help businesses hire candidates with the language skills those businesses need to grow. Read this info sheet to learn more about how easy your testing program could be.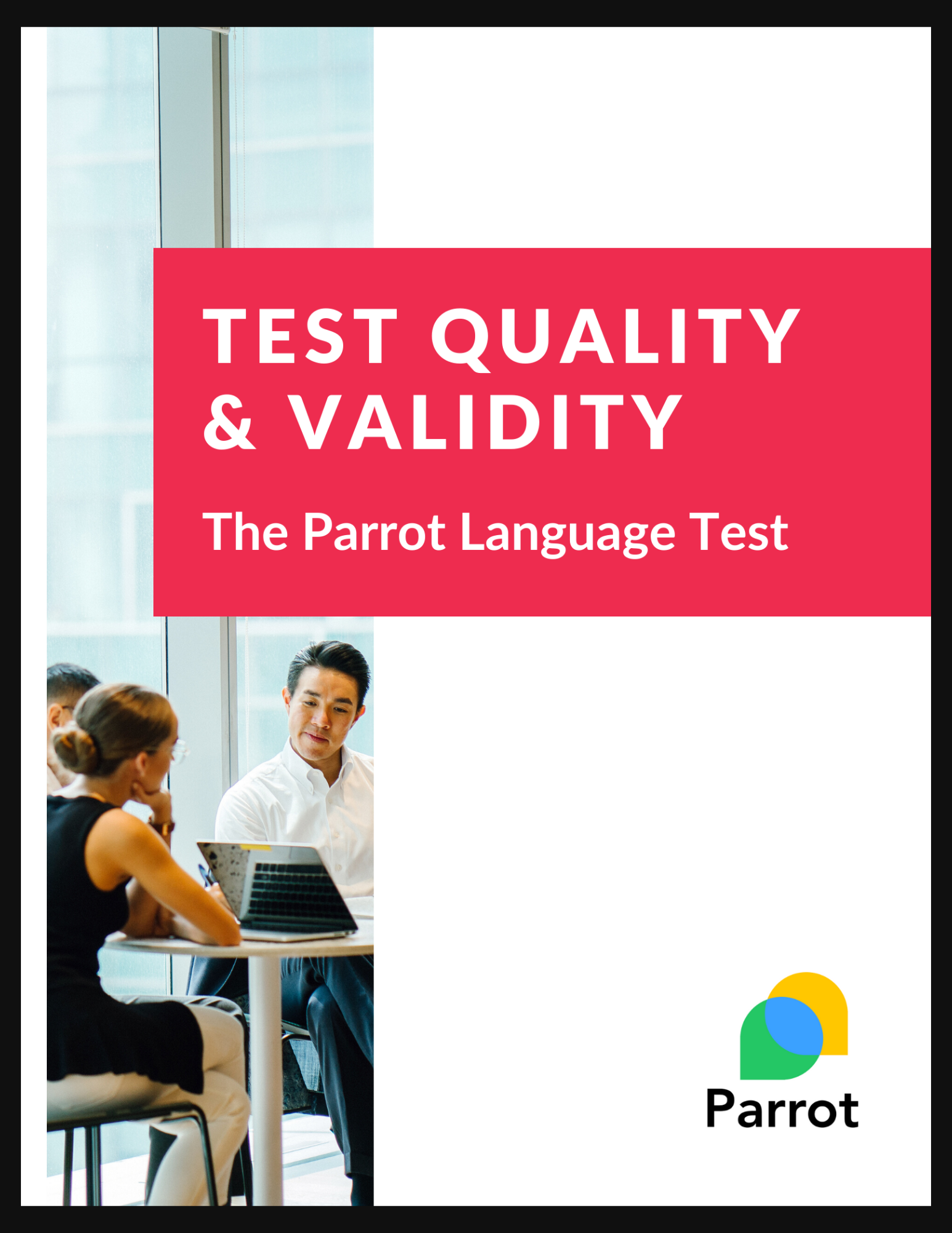 Test Quality & Validity
By combining an innovative methodology with modern tech, we're creating a new standard for evaluating language skills. However, none of that would matter if our results weren't also unquestionably valid. This report shows how we've fine-tuned our method to meet and exceed key industry standards for validity.